Palladio Colours
Palladio Colours are an important element when choosing a new front door. It is important that the colour you select fits in to the overall decor of the home. The combination for most homes is a strong colour on the outside and white or cream internally.
Vibrant Palladio Colours
Currently there are fourteen colours in the Palladio Composite Doors Range. In the following image you can view the major ones. One of the attractive things about Palladio Doors is that you can custom paint the door to a colour of your own choosing.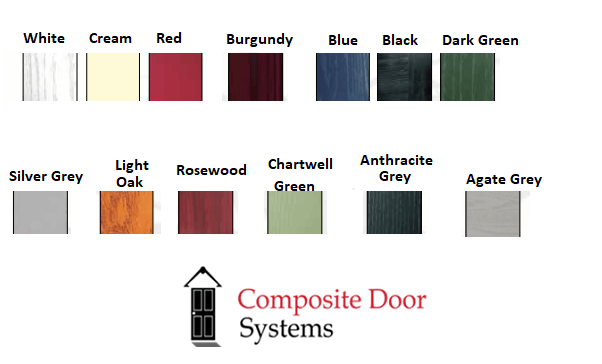 Ral Colour Codes
If you need to paint to your existing doors to match your new Composite Door, all you will require is the RAL code. The codes are available from our office, just give us a call and we will be happy to email the code to you. Visit the Gallery and you will get a better idea of the colours. All our sales agents carry a sample of all the colours, and these are exact samples of the colours
Here are the colour codes for your door:
The Black: 8022
The Red: 3011
The Blue; 5011
The Green: 6009
The Cream: 9001
The White: 9003
Silver Grey: 7001
Chartwell Green: Paint number BS14C35