Palladio Doors are suitable for replacement in existing homes and for the new constructions. When you think about your front door and every other door in the house, you think security. Getting the right kind of front door is not only crucial but important for you. A door that will combine durability strength and affordability is not easy to find.
Many people will go for metal doors which will cost an arm and a leg and look very bland. Others will go for wood which right now is like gold in terms of cost. These options are okay for your house but are not necessarily the only and the best options. Palladio Doors are a favourite for their design and features that enable you to enjoy better doors for your new home. If you are looking to replace doors, there is a reason why the composite doors are recommended. Here are a few benefits that come with these doors.
Secure Palladio Doors Dublin
The safety comes win a number of forms including environmental friendly and can withstand impact. Our doors can hold weight and are almost impossible to break through. They are durable, thanks to the layers they are designed with. The Palladio doors do not require maintenance after buying. No need for painting, varnishing or sanding. Can be wiped with a wet cloth just to ward of any splashes of dirt but that's it.

Read More Here
Durable Palladio Doors
Palladio doors do not warp, bow or twist. The composite materials are a blend of various materials that allows the door to deal with the elements satisfactorily without any damage to them. Wood will warp, bow and even twist due to the elements around it. Composite Doors are highly compressed and come with high dent resistance for your home. This makes them durable in terms of their aesthetic value. Palladio Doors cannot crack because they are designed with fiberglass which is impossible to crack at any point. They have a heat insulation capability keeping your house and the door away from the elements. A door that allows insulation is ideal for a house since it will keep away the cold and the heat from the house.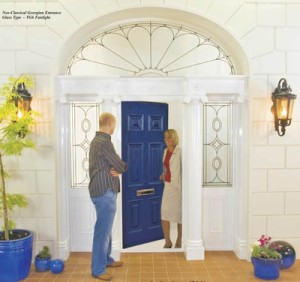 Aesthetic Value
The aesthetic value of the Palladio Doors cannot be understated. Customers are provided with a wide range of designs and colours to choose from. This gives you the option of creating a design for your home that does not leave the doors untouched. Palladio doors are perfect for home styling and will offer you more choices than you need to work with. Each door comes with a warranty which is a great advantage. They are the solution to your home needs when it comes to door insulation and security. You get to use an affordable option that adds the value of your home exponentially.
Very Popular Palladio Designs In Dublin – Play Video
Average rating:
4 reviews
Apr 1, 2016
95 Mount Tallant AvenueTony and his team at Composite Door Systems were most efficient and professional in all my dealings with them. The process of choosing the right door and having it installed was all carried out in a stress-free and timely manner. I was particularly impressed by how neatly the work was carried out on the day. Many thanks!Louise
Mar 8, 2016
Dublin Door installed at 23 Cloister Square, Blackrock
A big thank you to Tony and his team for the beautiful door you installed for us recently. The door has made all the difference to us in terms of securityand retaining heat in our hallway. We were really impressed by your work. We would highly recommend you to anyone.
Many thanks
Fionnuala & Gerry
Jan 2, 2016
(5 Rivervalley Avenue, Swords)
Hi Tony

I just wanted to let you know how happy I am with my new door and all the work that was done. The company did a really nice job and I'm very impressed with the finishing touches – they even put my number 5 up on the wall!
I would highly recommend you to anyone!
Thanks a million
Joanne McGarry
Jan 2, 2016
(27 Sandyford Hall View) Doors and Windows Installed
Hi James
Thanks for your personal contact over the last weeks and appreciate the work undertaken.

Regards
Peter